Patrick Meyer
patrickm@btevents.com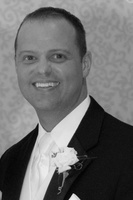 Patrick is one Black Tie Events most requested DJ's! He comes from a family with over 65 years in the radio business. His knowledge of music and outgoing personality make him a great fit for any event that you are planning. In addition to his radio background, Patrick entertained guests at the Walt Disney World resort in Orlando, FL. He has also worked for the NBA's Atlanta Hawks, TCU Athletics and Live Nation Entertainment. He knows how to make people laugh and have a good time. Patrick's schedule fills-up quickly, so reserve his services as soon as possible.
Client Feedback:
Thank you Patrick. We thought everything was wonderful and would love for you to use us as a reference. Great Job!
Patrick was great! He has a great personality and really knew what music to play to make my guests dance.
Patrick was awesome!!!!!! He really helped make this wonderful occasion, We will certainly recommend you. Keep up the great work.